Last year we had a wonderful Valentines Day. After making a delicious dinner, Steve treated me to a concert.  Here's the story…and 2 of our family favorite recipes!
Twenty-nine years ago, my sweetie popped the question. We were out for a late Valentine dinner, at the nicest restaurant in Bryan/College Station.  The Texan looked like an old Dairy Queen from the outside, but it was gourmet food on the inside.
After enjoying a delicious meal of tournedos, Steve asked me to marry him. Twenty-eight years later, he's still my Valentine and I love him with all my heart.
To celebrate that day, I decided to make beef tournedos for just the two of us. Steve was in charge of our date later in the night. (It's not what you are thinking, see below)
I found one of my Valentine's Day recipes in my Art of French Cooking, by Julia Child. Julia has become my best friend in the kitchen these past couple of years. I've fallen in love with some of her recipes and they are "go to" recipes for me now.
I've included my version of Julia's recipe below. One thing I learned this time was how to cook a really good filet. I melted butter on high. Once the foam subsided, the skillet was hot enough to brown the steaks.
I cooked the steak for a short time and flipped them. They were done in less than 10 minutes. So delicious. I'll be using this recipe again.
So, on to our later date. Steve bought tickets to the Valentine Concert at Texas A&M with Lyle Lovett and Robert Earl Keen. I thought about showing you the concert promo (professional) picture, but it doesn't give the personality of this concert. Here's one my friend, Sheree Boegner took from her phone.
It was one of the best concerts I've attended. Why?
It was only Lyle & Robert on stage, with their guitars. They talked between songs and told stories about the songs they wrote. Since they met at Texas A&M, we heard lots of local lore about their first songs together.
It was a perfect Valentines day!
Ingredients
2 filet mignon (1" thick)
2 bread slices
2 Tbsp butter
5-6 mushrooms, sliced
1 green onion, chopped
1/4 cup red wine
1/4 cup beef bouillon
Instructions
Cut bread in round with cookie or biscuit cutter. It should be the same diameter as the steak
Melt 1 tsp butter in skillet. Saute biscuit in butter. Remove from skillet
Melt 1 Tbsp butter in skillet on high heat. When foam subsides, the skillet is hot enough to sear the steak. This is the key to a good steak in this recipe.
Add steak and cook 3-4 minutes. Flip & cook 3-4 more minutes for medium rare. Remove & keep steak warm. I placed mine in an oven that was no longer on, but still hot from toasting pecans for the rice.
Saute mushrooms and green onions in 1 Tbsp butter. When soft, remove mushrooms.
Add wine and cook on high to cook out the alcohol. When liquid is reduced, add beef bouillon. Add the mushrooms.
To plate this wonderful meal, start with the bread round. Place the steak on top. Pour the mushrooms on top.
https://howtohomeschoolmychild.com/valentines-day-recipes-beef-tournedos-for-two-monday-meals/
Ingredients
1 cup wild rice
1 1/2 cups chicken bouillon
1/3 cup pecans
1/3 cup grapes, sliced in half
2 green onions, chopped
1 Tbsp butter or olive oil
Instructions
Bring chicken bouillon to boil. Add rice. Turn down to low heat & cook 30 minutes.
While rice is cooking, toast pecans on 300 for about 10 minutes or until browned.
When rice is soft & done, fluff with a fork.
Stir butter, pecans, grapes & onions into rice.
Everyone in my family loves this dish.
Notes
If I'm in a hurry or don't have all ingredients, I use whichever toppings I have on hand.
https://howtohomeschoolmychild.com/valentines-day-recipes-beef-tournedos-for-two-monday-meals/
These recipes are listed on Weekend Potluck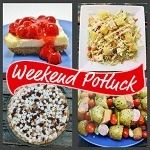 This webpage may have affiliate links. See policy for more details.