Parenting Essentials Package
from Doorposts Publishing
Save $13 (18% discount)
We offer  FREE SHIPPING …
 
February 5, 2014
Dear Homeschool Mom, Dad or Parent,
Do you need some help instilling Godly character in your kids?
Do you want Bible verses at your fingertips to use with your children?
We have the perfect solution…"Parenting Essentials" Package with For Instruction in Righteousness, Small Charts & Checklist for Parents!
What's included in the Parenting Essentials Package
If-Then Chart
Blessing Chart
Brother Offended Checklist
Go To The Ant Chart
Checklist for Parents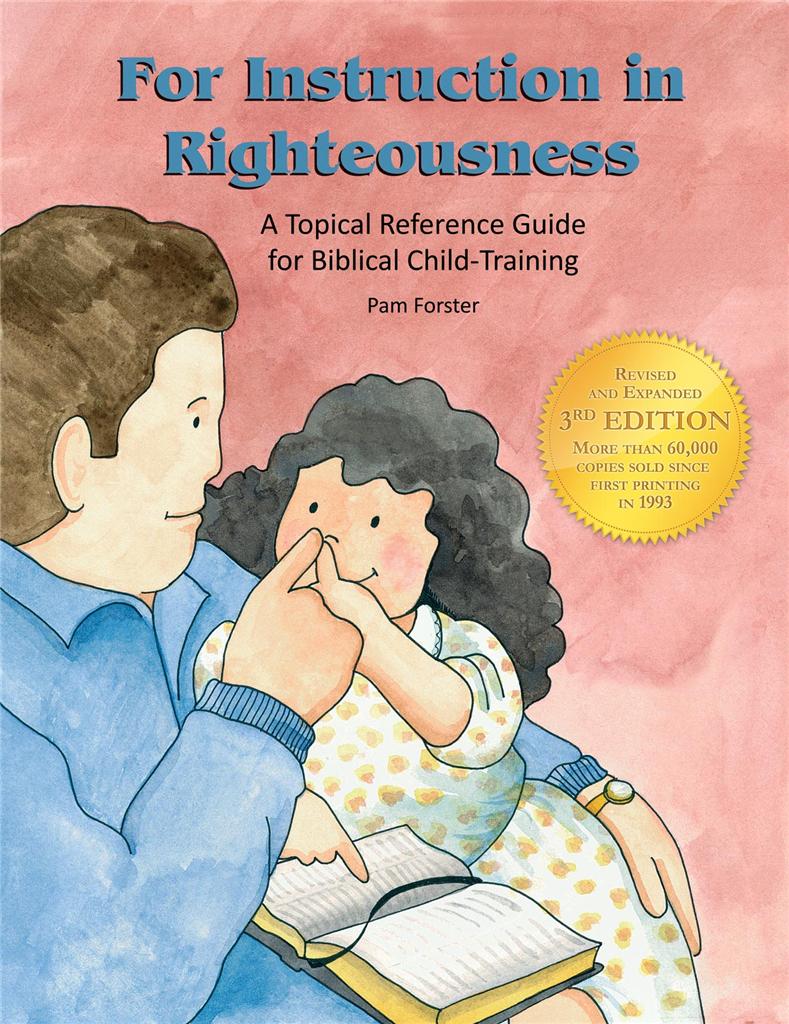 Let's talk about For Instruction in Righteousness
We used this book for years as we taught our children what the Bible says about their actions.  I highly recommend it.
This topical Bible for parents will help you use the Bible every time your children need instruction. Hundreds of Bible verses are organized according to 52 common types of misbehavior, along with numerous parenting ideas and suggestions.
Now in its 3rd edition, For Instruction in Righteousness has been updated and expanded after 18 years of faithful service. This new edition has over 50 pages added, with many chapters expanded as a result of additional parenting experience and Bible study.
This book was originally written for our own benefit, to help us fulfill the important duties Scripture requires of us as parents:
We must discipline our children when they disobey God's standards
We must encourage our children when they obey
We must exhort our children daily, and restore them when they show repentance
We must warn unruly children of the consequences of their sin
We must direct our children to God's Word for guidance
We must deliver appropriate consequences promptly and consistently
We must provide an example of God's justice and mercy
For Instruction in Righteousness is a valuable tool that will help you, in specific ways, to fulfill each of these duties God has given us. Most chapters include each of the following sections:
What the Bible says will, or should, happen to a person who sins in this way, with ideas for discipline that parallel these Biblical consequences.
Instructions the Bible gives for repenting of this sin (newly added in this edition!)
What the Bible likens a person to when he indulges in this sin, and ideas for practical object lessons using these examples.
How God blesses the person who resists temptations to this sort of sin, with parallel ideas for "rewards" and encouragement when children show progress in overcoming this sin.
Stories and people in the Bible that illustrate obedience and disobedience in this area.
Fully quoted memory verses.
In addition to these 52 topical chapters, extra sections discuss:
Biblical Solutions!
Really wish I would have had this handy many years ago. Raising children in a christian home with a biblical view on everything isn't easy and we can all use a helping hand to remind us where to look for answers…the bible!
Find biblical solutions very quickly. When your "in the moment", just pull out this handy book. Other Doorpost materials have been a blessing too! Thank you for sharing and giving families tools to keep us focused on what is truly important.                       
~Denam
Florida
Do you need a quick reference chart so you handle situations Biblically?
Do your want to teach your children Bible verses that apply to them?
We have the perfect solution…4 Charts Packet
If you want to be more consistent and Scripture-focused in your parenting, these Bible-based parenting charts will help you. Charts in this set will help you with consistent discipline, rewarding good behavior, encouraging diligence, and teaching your children to resolve disagreements in a godly manner.
If-Then Chart: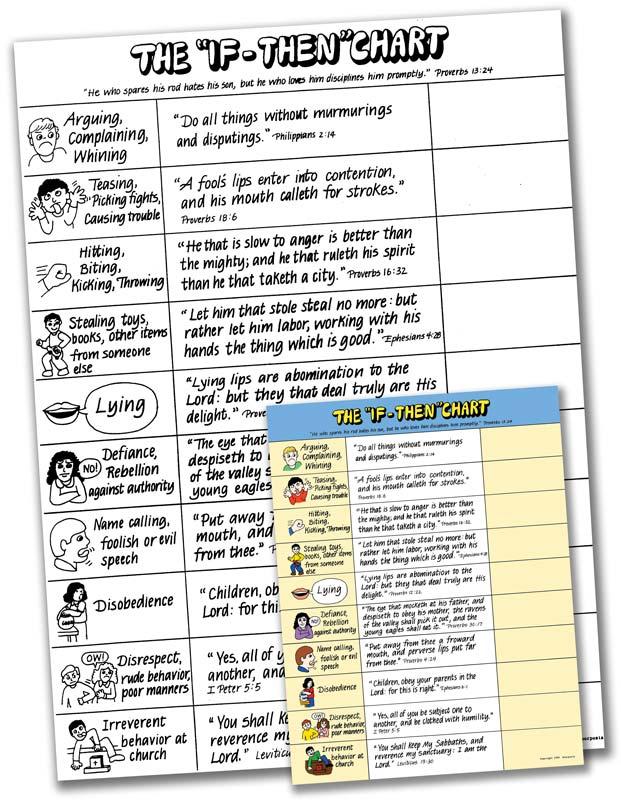 This chart is designed to help you be more consistent in disciplining your children. When they disobey, it will help you know what you need to do, and it will help them know what to expect. It has helped my husband and me to be more united in our authority and discipline. Our children have responded very well.
The chart is divided into 3 columns. The left-hand column lists common areas of misbehavior, each illustrated with a simple cartoon The center column gives a Bible verse related to each sin. The third column is blank, for you to write in the agreed-upon consequences for each misbehavior. The instructions offer suggestions, but you choose your own disciplinary actions. Our regular wall chart version includes pre-lettered consequences to paste onto your chart, and the small laminated version gives suggestions for writing in your own consequences with a permanent or wipe-off marker.
 When a child misbehaves we take him to the chart, read the Scripture, and let him see what the discipline will be. Even our 2-year-old could understand this chart!

The chart helps you deal with the following issues:
 Arguing/complaining/whining
Teasing/picking fights/causing trouble
Hitting/biting/kicking/throwing
Stealing toys, books, or other items from someone else
Lying
Defiance/rebellion against authority
Name calling/foolish or evil speech
Disobedience
Disrespect/rude behavior/poor manners
Irreverent behavior at church
The Blessing Chart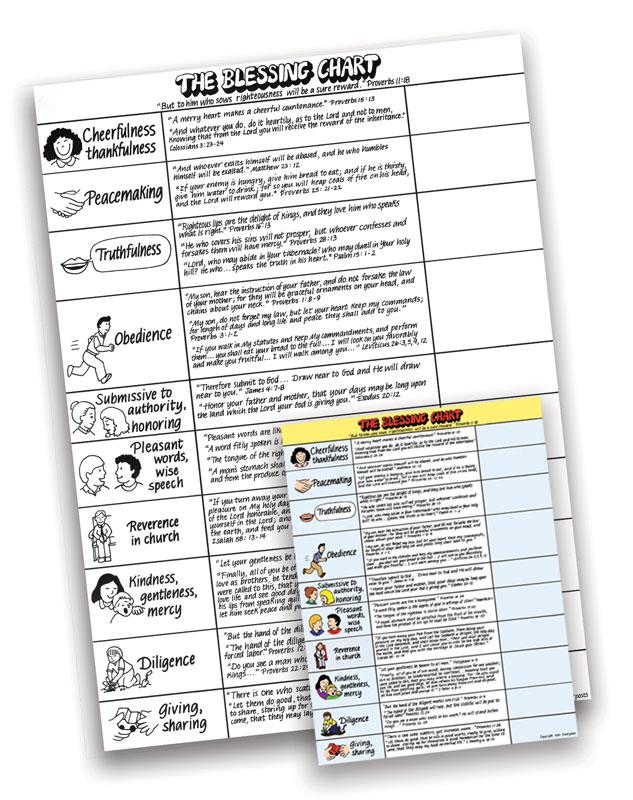 This is the fun one! The Blessing Chart is designed to help you acknowledge and reward godly attitudes and behavior.
The left-hand column lists good character qualities, with cartoon drawings (see example below). The center column quotes Scripture verses that tell how God blesses us when these qualities are present in our lives. The right-hand column is left blank, for you to write in agreed-upon rewards.
The chart instructions give many ideas for creative rewards that relate to God's rewards in our lives. For example, under "peacemaking" one of the verses listed is Matthew 23:12, which says that "he who humbles himself will be exalted." The instructions offer ideas for ways to "exalt" your peacemaker: a party or feast with the family, no chores for a day, a "Servant's Day" when the family performs services for the "exalted" child, or flying a special name flag from your front porch.

God blesses us for our faithfulness and obedience. Use this chart to help you bless your children for their righteous behavior.
Brother Offended Chart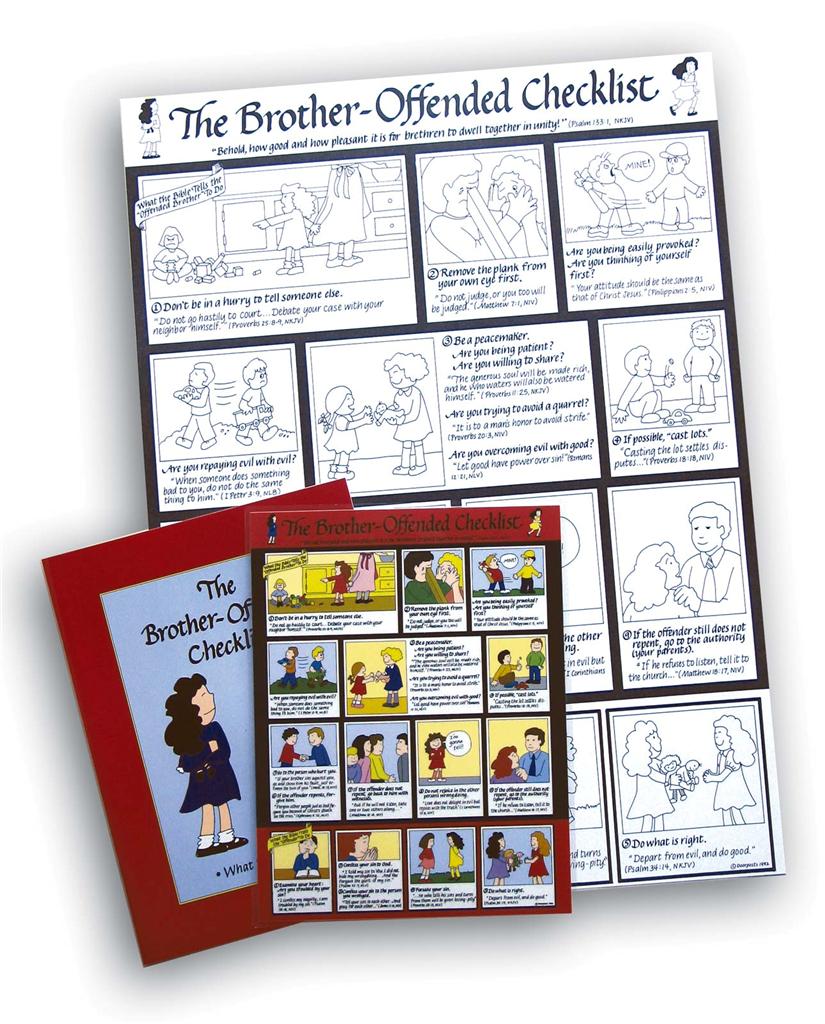 The one thing that probably wears me down more than anything else as a mother is bickering: petty arguments and their results. "Maaah-meeee, he hit me!" I used to feel like a referee!
I began to see that I was also encouraging my children to become gossips as they constantly reported their grievances to me.
We knew there had to be an answer! So we started digging into God's Word. Here it is in a format that even a toddler (or adult) can understand!
Based totally on Scripture, this cartoon-illustrated chart-and-book set outlines:
9 steps for an offended person to follow
5 steps to encourage the offender to confess and forsake his sin
10 Scripture-based guidelines for parents when they must assume the role of judge in offenses.
Examples from lives in the Bible
What to do with a false witness
How to discipline a child who takes pleasure in getting another child in trouble
Includes a chart outlining steps for both parties, with Scripture and cartoon drawings, and a 28 page booklet giving further directions, ideas, and verses that apply. The booklet material can easily be incorporated into your family worship time.
Scripture can help bring peace to your home!
Go To The Ant Chart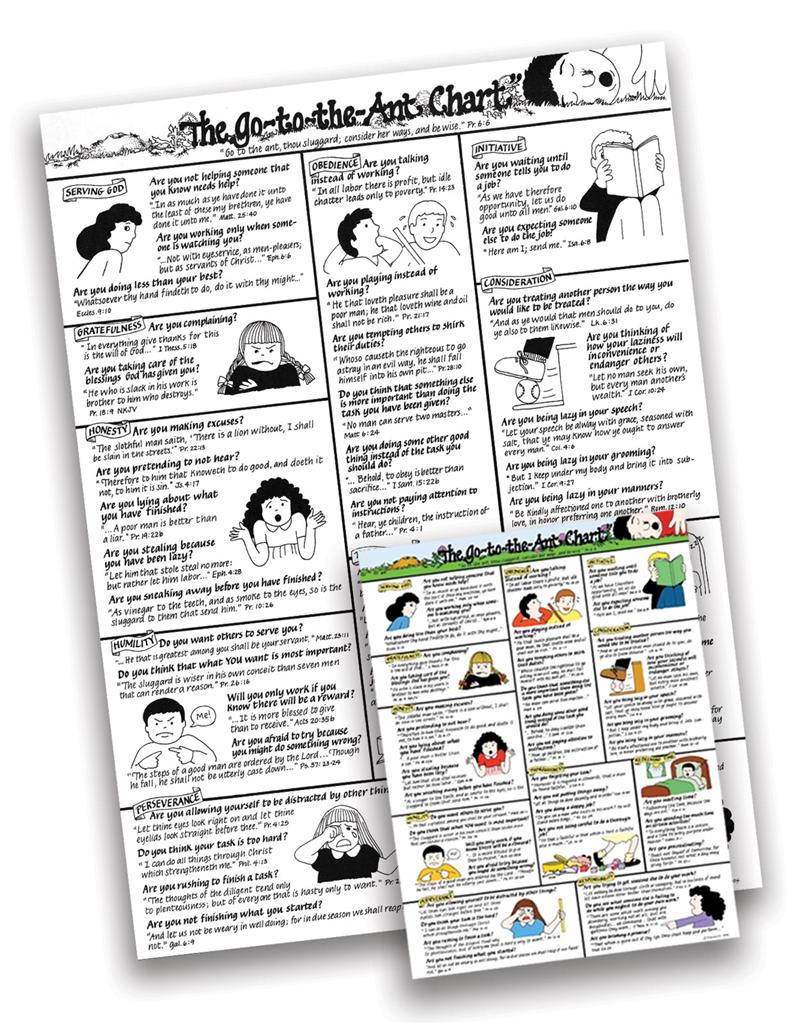 This chart arms parents with Scripture for working with the easily distracted or "less than diligent" child. The chart covers every area of laziness we could think of, plus a Bible verse for each problem, for easy reference when they're driving you crazy! Take your child to the chart, identify his slothful action or attitude, read what God says about it, and pray for His strength to obey.
Topics covered include:
Serving God

Gratefulness

Honesty

Humility

Perseverance

Obedience

Thoroughness

Responsibility

Initiative

Consideration

Redeeming time.
What An Incredible 180!
What I wasn't prepared for was just how well it would work and how it worked on my children's hearts. It maintains consistency in discipline once the kids know the chart (YAY! thats a victory right there). They know what to expect and it reinforces that they know that they are not just being disciplined because mommy thinks it was wrong or because I am mad.
~SA~
San Angelo
A Checklist for Parents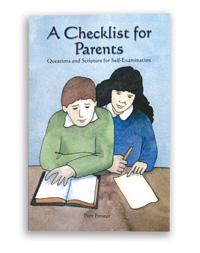 A series of 26 questions designed to help parents examine themselves in light of God's Word. Questions cover 6 areas of parental responsibility: love, prayer, instruction, protection, provision, and example. Each question is followed by Scripture verses which explain what God requires of us as parents.
Be brave! Use this checklist to help you:
Evaluate your obedience to God's instructions for parents
Pinpoint areas of weakness, sin, negligence, or laziness, with the intention of growing toward greater maturity.
Memorize Scripture that will equip you for your job as parent.
Discuss your relationship with your children.
Explain your responsibility to your children.
Pray for direction in your role as parent.
Prepare your teenagers for their future job as parents.
Scripture quotations are taken from the English Standard, King James, and New King James translations. 20 pages.
Our Gift To You: FREE SHIPPING– That's right! You do NOT pay shipping. It's on us.
100% Money-Back Guarantee
If you don't like the product or it doesn't fit your child, we will give you a full refund, no questions asked!
Your success in using this powerful approach to teaching writing is completely guaranteed!
.
.
Special Pricing
If you bought each item individually, you would spend $72. When you buy the "Parenting Essentials" Package, you invest only $59 and save $13 (SAVE 18% discount)
Don't wait any longer, reserve your copy today for only $59…
.
PERFECT ADDITION for all Christian homes.
ps. Don't miss out with your BONUS of FREE SHIPPING on this item